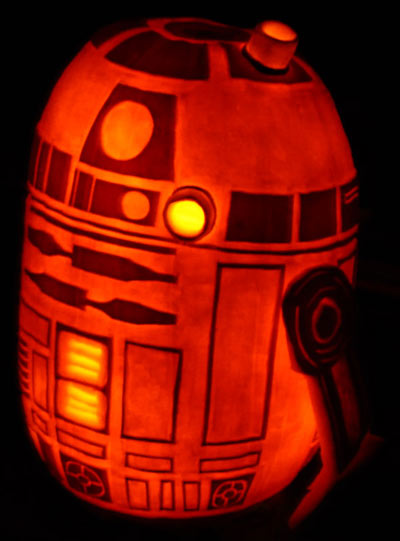 Hey El Moochadors! Sorry I haven't done this the last couple weeks. I was pulled away by other projects. Thankfully I have a clone that can step in and help me out when I need him to. There's been some really awesome Star Wars stuff buzzing around the web this week, so I'll just get to it.
Star Wars Pumpkin Carvings
Since Halloween is coming, I thought this would be a great one to start with. Above is great looking R2-D2 jack-o-lantern I saw on Neatorama.com, carved by Noel Dickover. If you click on his name, you can check out more of his great work. This guy is super talented and I recommend you take some time to do that. Below are more Star Wars themed jack-o-lanterns by Noel.
Also, I was curious to see what other people have done as far as Star Wars themed pumpkin carvings, so I did a google search and found another great site. Go to www.pumpkingutter.com, and check out the work of Scott Cummins, from Perryton, Texas. Below are some really neat looking Star Wars jack-o-lanterns he's made.
R2-D2 Swimsuit
I guess it's kind of late in the year for this (unless you're in the southern hemisphere… or have an indoor pool… lucky bastards) but I saw this swimsuit on BoingBoing.net based on our favorite little droid, R2-D2. I don't know… I never thought of Artoo as cute or sexy in anyway, but this image is changing my mind. Maybe they should have put a girl like her inside the droid instead of a dwarf…. Might of helped the prequels at least. Anyhow, this bathing suit is from Australian designer James Lillis, and it looks like you can pick it up for $85.00 (?!) at Black Mill.
Super Chibi Star Wars Alphabet
Here's something I've seen talked about on a couple sites already. Check out these Super Chibi Star Wars Alphabet illustrations by Joe Wight. I'm not exactly sure what a Chibi is (I'm guessing a certain kind of stylization), but I think if you poke around on their site (www.WorldFamousDesignJunkies.com) you might be able to find an answer. There's 26 (one for each letter of the alphabet) different Star Wars character illustrations. Click on the image, or link, above to see them all. U is for Ugnaught! Ha!
How the Empire Strikes Back Should Have Ended
Thanks to GeeksAreSexy.net for sharing this. There's a whole bunch of these "how it should have ended" videos on youtube (The LOTR one is great), and it looks like they've decided to do The Empire Strikes Back. Check it out below. Click here if you want to see more of their stuff.
Steampunk R2-D2
Seems like Artoo is getting a lot of attention lately. I first read about this on GeekTyrant.com. You can check out this steampunk version of him made by Mark Edwards (amoebabloke) on DeviantArt.com.
Awesome Star Wars Art
You can tell I'm getting tired when each section here starts getting smaller and smaller. Honestly, there's just too much to post on. So I think I'll make this the last one. I'm working on another wallpaper, and I'd like to spend some time on it before bed. Underwire did an awesome report on an upcoming book, Star Wars Art: Visions. It will be released in November for about $40.00. It's a 120 page book full of great looking illustrations by various artist "who've put their own spin on the films' mythology." It looks pretty awesome, at least it might make for a great Christmas gift for the Star Wars geek in your life. Here's an illustration out of it below. Click on it to see more.
Well, that's it for this week. I know I didn't get it all, and I apologize, but there is way too much out there. So I hope you enjoyed this sampling. Please let me know what you think, and hopefully I'll have more great stuff to share with you next week.
Good night!