It seems like this past week has been full of Tron: Legacy awesomeness. Check out this triptych poster that's been revealed throughout the week. I really hope this movie doesn't suck. I think they're doing a great job promoting it, and I really like the new visual look for the film. I just hope it all comes with a great story.
It was also announced this week that Disney is developing a Tron TV series.  It'll be called Tron: Uprising, it's going to be animated, and should be out 2012. So that's something to look forward to, unless the world ends like all the nut jobs are predicting… then I guess they won't be considered nut jobs anymore. Of course none of them will be around to say sorry to, but we won't have to put up with any smugness from them either. So I guess it'll all work out in the end.
On top of all that, an exclusive clip was released. Check it out below.
Damn, Olivia Wilde looks hot in this. Maybe it's the hair… or the glowing lights… I dunno. Put black hair and neon lights on any chick and I'm sold. I'm not sure if that counts as a fetish or not, but hey, there's some sick people who dress up as animal mascots and go at it. So if it is one, it's pretty weak.
The only other thing is I did get a chance to read the first issue of Tron: Betrayal, from Marvel Comics.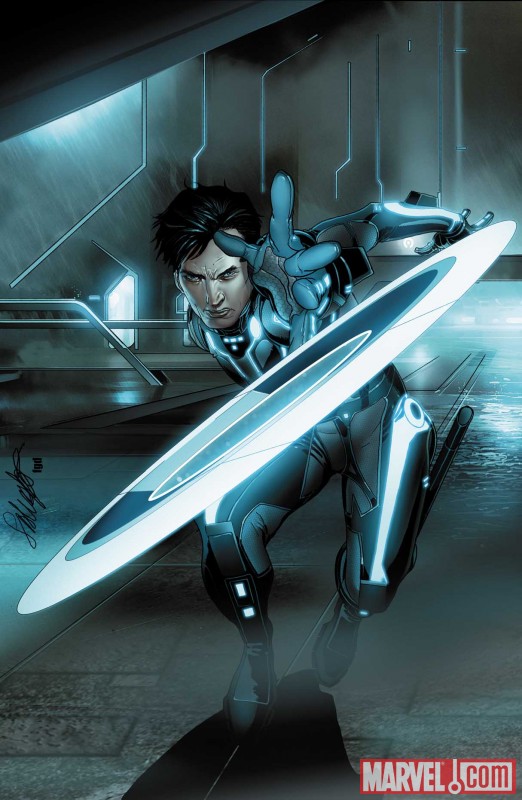 It was a decent read. Not great, but not bad either. It just seemed to fill in the blanks between the two films. How Clu came to be, the friction between him and Flynn, life before Sam, etc…. I don't want to spoil it for anyone. Check it out if you really want to, but I don't think it's that critical to read.
Well, sounds like my brother is sick, so I'm going to wrap this up and see what's wrong. Maybe I under cooked the chicken… I dunno. Later!