Like usual, there's been a ton of awesome Star Wars related stuff this week, and I'll do my best to include as much of it as I can. The coolest, and absolute best thing that happened this past week (at least for me), is I finally got my mail in vintage Boba Fett action figure with a rocket-firing backpack. The deal is, you have to buy five other figures and send in the proof of purchases to get this for free, but then you still have to send in a six dollar check for shipping or something like that (I really doubt it costs that much to ship, so I'm not sure what the $6 was really for).
My only complaint about this, besides the wait, is the packaging was a little warped on top. Sorry, but I'm one of those obsessive and picky collectors that like their in-package figures to be as mint as possible. Still, I'm not going to send it back or bitch to Hasbro or anything, I don't want to wait a couple more months to get another one, and other than the slight warping on top, it's fine.
New Star Wars Toys in Vintage Packaging!
Since we're talking about Star Wars toys, I just read on Rebelscum.com (they need to be careful with that name… if you know what I mean…), that Hasbro is going to release more figures in the vintage packaging.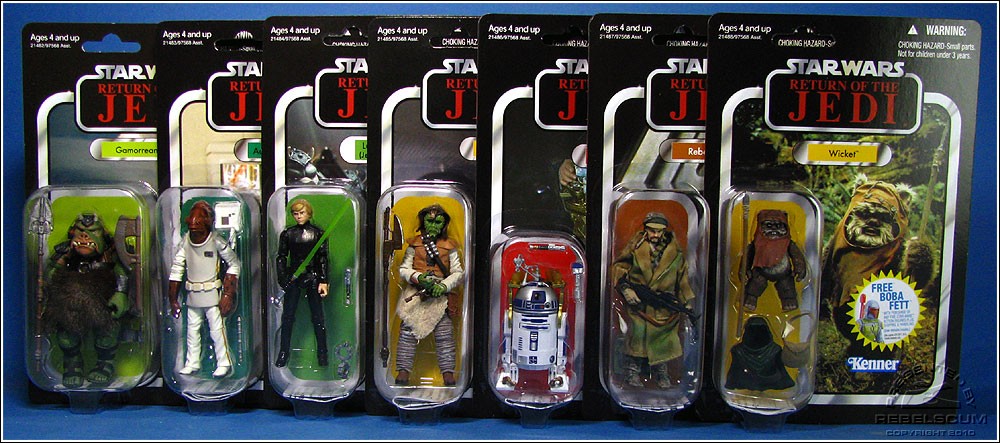 It looks like they're all from Return of the Jedi (What, no Leia in the metal bikini???). I'm not sure when they're going to be available in stores, but I do like that they're keeping up with the vintage packaging. Honestly, I think it's the best packaging design so far. It's simple, clean, not too cluttered, and it's nostalgic. I hope they keep going with it for a while, and I'm definitely picking up that Gamorrean Guard as soon as it's made available.
Awesome Star Wars Mondo Posters!
There's been a couple new posters released by Mondo this past week. Earlier this week they announced this great looking Chewbacca print, by Rich Kelly, was available for purchase.
More recently, Mondo has put out this great looking cantina scene poster, "A Wretched Hive" by Martin Ansin.
The Force of Typography
Check out these great looking typographical posters I read about on The Official  Star Wars Blog, created by… H-57 Creative Solutions (sorry, but unless I over looked something, I couldn't find the name of the artist, only the studio they work for). I had to do something similar like this in college. We had to illustrate a movie poster only using type. I chose Batman. It ended up being a epic mess, and no where as cool as these. Still, I always wanted to try it again. I even thought about doing some wallpaper designs for Atomic Moo that were made of type. Hopefully soon I'll be able to try it. Anyhow, check out the other two posters below.
Awesome Star Wars Art by Carlos Núnez de Castro Torres!
GeekArt.net did a post this week on the some of the Star Wars based illustrations done by Carlos Núnez de Castro Torres. He's got lot of great work on his DeviantArt.com profile, definitely worth taking a look at. Also check out his website. Here are a couple more images of his work.
Fan Made Lightsaber Training Droid That Really Floats!
Here's something cool I've been seeing passed around the web the last couple days. This guy took a floating globe… thing, and made it into that lightsaber training droid from Star Wars: A New Hope.
Disney Sith Princesses!
I read this on GeeksAreSexy.net and thought this was a great idea. What if the Disney princesses were Sith Lords (I'm not sure which one the red head is, but that would be enough to turn me to the Darkside…). These awesome illustrations were created by… Joseph (not sure what his last name is, but his DeviantArt.com profile says JosephB222). Check out all the illustrations here, and I'll put a couple more below.
The Droid I'm Looking For…
I think this is a good one to end the night on (where's my bottle of jergens?). Bless the designer who made that suit, otherwise we may never have had this image to drool over. Seriously where do you find women like this!? Hot and into Star Wars… where the hell are they??? Thanks to Geekologie.com for sharing this to. I've already dispatched my stormtroopers in search of her.
Well, that's it for tonight. I'm sure this next week will be filled with more Star Wars goodies (hopefully more like the image above), and I look forward to posting about it. Good night!