I'm still trying to figure out how I want to do this. For now I guess I'll just continue on with talking about all the neat Star Wars stuff that comes out during the week in a single post. Unfortunately I'm not going to be able to include everything, and time is limited, so I'll probably just pick three to five things to post on. I want to focus more on the fan made stuff, but I don't want to totally limit it to just that. I guess we'll see how things go. If you have any suggestions, comments, or ideas on how we could improve this, please let us know.
Jabba the Hutt Snow Man
Although this Jabba the Hutt Snow Man looks totally awesome, and was probably really fun to make, it still doesn't make me miss the snow. I lived in Northern Utah for over eight years and I could go the rest of my life with out ever seeing another snow flake. This great piece of Star Wars snow art was made in Spokane, WA. Thanks to GeekTyrant.com for sharing it with the rest of us, so we don't have to go up there and freeze our butts off to see it in person.
Star Wars Attack of the Models
I saw this one on NerdBastards.com earlier. It's made by some guys that call themselves PistolShrimps on YouTube, and I guess they've done some other fan based parody stuff. Click on the link to see more of their work.
Awesome Star Wars Trilogy Posters From Mondo Tees
Here's another good one GeekTyrant.com got the jump on. Check out these three new Star Wars Trilogy poster from Mondo Tees, created by Olly Moss. These are really fantastic looking pieces. This is the level of work I hope to get to someday. I'm not sure if you can still purchase these or not. I couldn't find anything on Mondo's website, but it looks like on Olly Moss's blog there's some information there. Anyhow, you should definitely check these out.
Star Wars Crawl Dress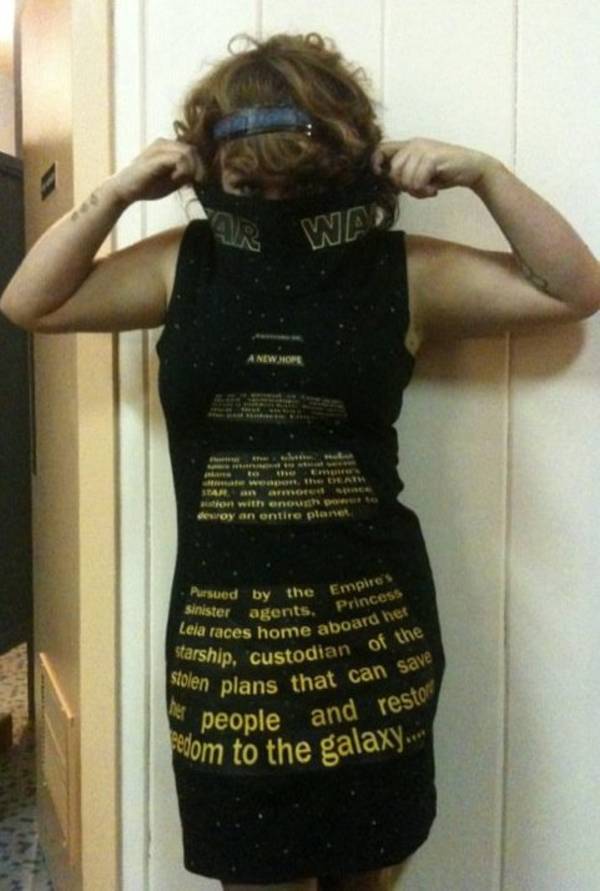 This was a pretty cool idea. Here's a dress with the Star Wars text crawl from the opening sequence to "A New Hope" printed on it. I saw this on BoingBoing.net, and the say it was made by "Chenoa, a hairdresser at The Beehive in Vancouver, BC." They also say it has a matching headband, but honestly if a girl is wearing this, you really think we're going to look up that far? Great job Chenoa!
Sorry kids, but that's all for tonight. Something just came up and now I'm feeling the need for a drink. I'm looking forward to the rest of the week and seeing what other great Star Wars related stuff is put out there on the web. Good night!