Good morning! I just realized I was much more tired than I thought I was. It's times like these I wish I could drink coffee (I don't drink it because of any religious or health reasons, it's just because I can't stand the taste of it). I saw a couple of Cthulhu related items in my reader last night, and thought they would make a good post for this morning. The first being the illustration above by John Kenn drawn on a post-it note. I was just browsing through his blog and looking at some of the amazing, and disturbing, work he's done on post-it notes. It's definitely worth a look. Thanks to Neatorama.com for sharing that one.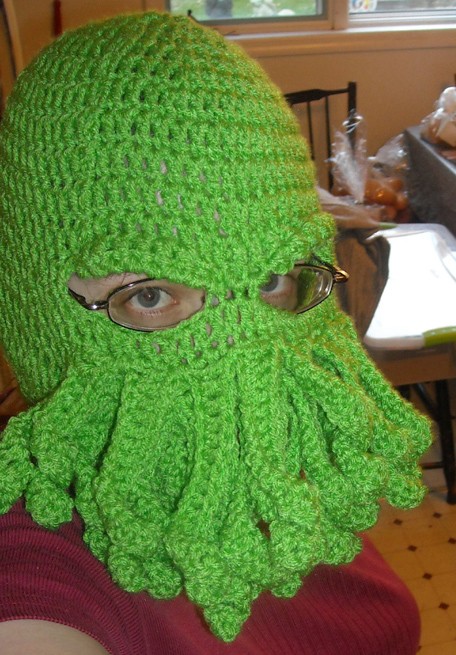 The other thing is this nifty looking crocheted Cthulhu ski cap created by CraftyPA on etsy.com. It looks like it's been sold, so sorry Elder God worshipers… maybe you can get her to make you another one. Again, thanks to Neatorama.com for the post.
I have to start my work day now, and try to get through it the best I can. I've got some Atomic Moo related stuff I want to work on tonight though, so I have that to look forward to. Have a great day!