Hey geeks! We got some weird animal stuff tonight. I guess this all falls under our "Odd" category. Anyhow, check it out and let us know what you think.
World's First Orange Alligator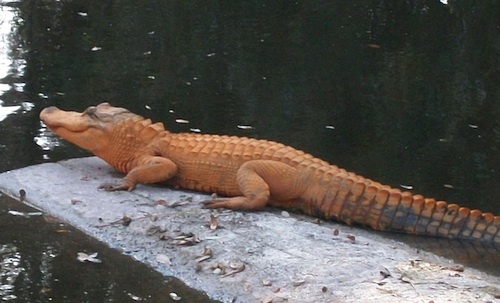 Thanks to neatorama.com for sharing this. The orange gator was discovered by a woman in Venice, Florida. Some researchers believe the gator might be an albino but the Florida Fish and Wildlife Conservation Commission believes the color was caused by paint or stain spilled into its environment. Pretty cool, eh?
Sharkto-Plush?
Okay, it's not a real animal… yet, but give science some time. I'm sure they're working on it as I'm writing this. laughingsquid.com posted images of this plush made by Suzannah Ashley based on the Syfy original film Sharktopus. I really like the simplified and cute look of this. I guess this is the up side to all the shit "Siffy" produces.
and the best for last…
Evil Hamster!
We got an email today by someone named Mojo Nixon (cool name). Thanks, this was awesome! It gives me an idea for a comic about a fearless rodent that takes on the commies… or maybe we'll replace the commies with zombies… or we'll just mix the two and have him fight zombie commies! Well, just as long as there's plenty of T&A in there, who gives a shit…