I'm having a tough time getting things done this morning. I guess it doesn't help that I only woke up about a half hour ago. A shower might help… and some food.
Geeky Stained Glass Prints
Alright… These are just a few nifty things I read about in my reader last night and this morning. Looks like it's all Etsy stuff this morning. I don't really spend that much time on Etsy myself, but it does seem like a great place for geekcraft. Like these prints of super heroes as stained glass windows by Fay Productions (via Geekleetist). I have no idea who these guys are, or where they're from, but it looks like they're doing some good work. They've got some more good stuff in their shop, so check it out if you get a chance.
Nifty Star Wars Embroidery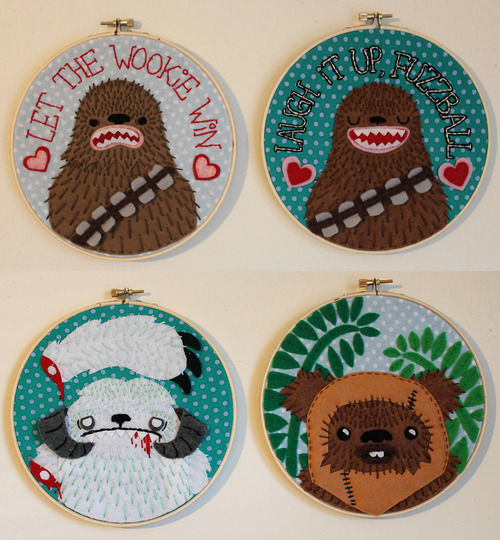 This is turning out to be one hell of a morning, so I better hurry up with this. Anyhow, here's some neat embroidery work that I spotted on my reader last night (via Neatorama.com). Looks like it's by Etsy seller Loveandasandwich, and it also looks like she's all sold out of them. She's got some other nifty stuff in her shop though, so go take a look.
Alternate Histories
Last thing here, then I gotta go put out a fire (no really, there's some nasty black smoke coming from the oven… I'll get to it…). Check out these alternate history prints (spotted on BoingBoing.net), by Etsy seller, Alternate Histories (that's convenient). Damn… I gotta go! C'ya!