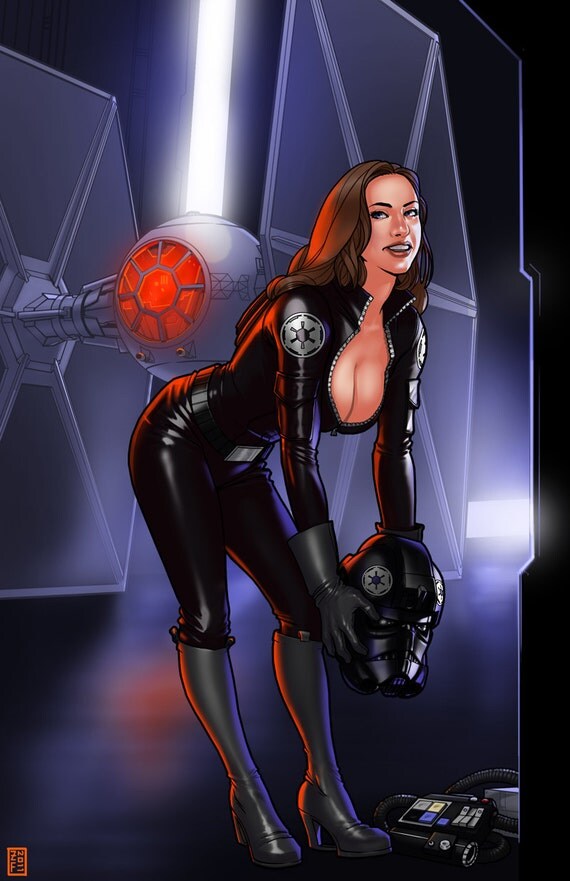 Hey Geeks. Sorry there was no Morning Moo. I was asked to go down to Del Mar today and do some freelance work; with that and driving Trog to his job, I didn't have time. Looks like I'm heading back there tomorrow to. Anyhow, I was just going through my reader, trying to relax a little, and I came across this awesome illustration above. It's by Etsy user Zach Fischer (zachfischerart on Etsy). If you get a chance, check out his Red Sonja print to. Damn fine work there… damn fine…
I should say I found this incredible piece of Geek Art via Geekleetist.com, which then led me to another interesting site some of you Star Wars Geeks will be interested in called StarWarsGoneWild.com. If the name doesn't give you a clue to what it's about, check out the image below (probably NSFW, so just make sure you're looking over your shoulder when you hit the jump)
Seems like a lot of adult content on there, but hey, if you've ever fantasized about a naked blue chick with tentacles sprouting out her head, well then this site is for you. Enjoy.
Pac Man the Musical
This definitely deserves a Moo.
Dragon Age: Redemption Trailer
Sorry, this is another video game I've never had the opportunity to play… it was a video game right? Anyways, it looks like it's going to be a six part web series. I'm not sure when it'll all be released, but I'll check it out when it does. Mostly because I've had a nerd crush on Felicia Day for awhile. I should post that Comic-Con photo I got with her back in 2008, where I was acting like a big goofy fanboy, and she looked really nervous standing next to me. Good times…
Kick-Ass Old Victorian Lego House
Last thing, then I've got some work to do. Check out this nifty old Victorian house made out of Lego by Mike Doyle. Plenty more images of it on his blog. Take a look, and let him know he's done good.