Hey El Moochadors. Earlier today I was rummaging through the bag of stuff that I brought back from Desinger Con last weekend—there's a ton of niftyness I should be posting about on here… but then I still have a huge bag of nifty stuff from Comic-Con as well… eventually I get through it all.   Anyhow, I came across a promotional card for this webcomic here that's worth a look. It's called Devilbear: The Grimoires of Bearalzebub, created by Ben Bourbon. Here's a synopsis for it that I found on the first issue: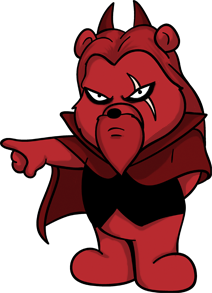 There is a place bad teddy bears go,

Of fire and brimstone deep down below,

Their seams are ripped,

Their stitches undone,

Their stuffing removed and burned by the ton,

While upon the throne, without Heart or care,

Sits the overlord Bearalzebub, a true Devilbear.
So basically, it's teddy bear hell, and Bearalzebub is the man, or bear, in charge. After reading the first issue I have to say that any comic that features "Winnie the Pimp" in hell gets a thumbs up from me.
Of course mostly I think I'll keep reading it for the finely drawn devil women, or Daivas, like Lucy Fur.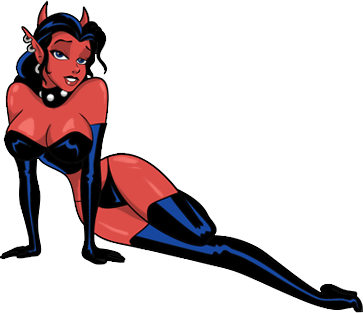 Anyhow, check out Devilbear's site, and give it a read. It's definitely worth it. I off to go crack a whip at Trog and try to get him to finish putting together the next Moocast tonight. Take care!